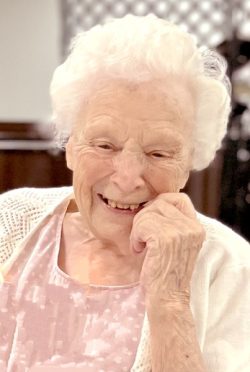 Canisteo, New York
Frances R. "Fran" Wilke – (97) – of 11 Fifth St., Canisteo, NY (Canisteo Manor), died Wednesday afternoon (April 12, 2023) at her home, following a long illness.
Born in Waterbury, CT on September 7, 1927, she was the daughter of Raymond & Harriet (Lawton) Reichenbach.
Fran grew up in Bucks Hill (Waterbury), CT and was a graduate of Crosby High School (class of 1945). She resided in Bucks Hill until 1968 when she moved to Old Saybrook, CT.
She had been employed for a time at the New London Federal Savings and Loan in New London, CT and later worked as a sales person at Amazing Grace book store in Old Saybrook, CT.
A resident of the Canisteo area since the 1990s, Fran was a member of the Gospel Tabernacle Church in Canisteo. She enjoyed bible study and prayer groups as well as praying for the needs of other people. An accomplished artist, she created many beautiful paintings which she gave to family & friends. In her younger years, Fran belonged to a high school rifle club and was considered an excellent marksman. She enjoyed her time living at the Canisteo Manor where she made many friends and enjoyed participating in the activities.
Fran was preceded in death by her sister & brother-in-law, Jean & William Molin; her grandsons, Brett Wilke and Christopher Wilke; her nephew, Kerry Molin; and her former husband, Raymond Wilke.
Surviving are 2 sons, Kenneth (Susan) Wilke of Summerfield, FL and Michael (Wendy) Wilke of Old Saybrook, CT; 4 daughters, Sarah (Larry) Newhart of Andover, Paula (Rick) Riviezzo of Woodstock, VT, Katherine (Rob) Thomas of Caywood, NY and Gretchen (Bennett) Whipple of Swannanoa, NC; 9 grandchildren; 9 great-grandchildren; 2 nieces; her "honorary granddaughter," Mari Hammond.
At Fran's request there will be no calling hours. A Memorial Service will be held at the Gospel Tabernacle Church at the convenience of the family.
Funeral arrangements are in care of the Dagon Funeral Home, 38 Church St., Hornell, NY.
Fran's request is that in lieu of flowers, memorial contributions in her name be made to Pregnancy Resource Center of the Valleys, 22 Liberty St Bath, NY 14810.
To leave an online condolence or share a memory, visit www.dagonfuneralhome.com.