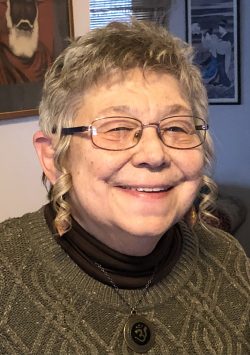 Hornell, New York
Lynn Anne Sulyma passed peacefully into eternity on May 19, 2023.
She was the daughter of John and Irene (Werzechowski) Sulyma, of Hornell, NY, and proud to be born in Brooklyn, NY on January 29, 1954. Survivors include her brother Jonathan (Pat) of Almond, NY; her sister, Stephanie Sulyma of Rochester, NY; her niece, Marisa Mauro of Bee Cave, TX; her nephew, Nick Mauro of Fairport NY; many cousins, friends, and her dear friend, LuAnn Di Paglia.
Lynn was predeceased by her wife of sixteen years, Beth Lumsden, with whom she had a holy union at the Metropolitan Community Church in Washington, DC.
Her childhood was spent on both coasts, a large portion of it in San Jose, Ca. Her family relocated to Hornell, NY where she attended her last year of high school, graduating in 1972.
Upon graduation from High School, Lynn enlisted in the US Navy and trained at Naval BSIC training in Orlando, FL. She was then assigned to Ft. Benjamin Harris to the Military Joint Journalism School. Her permanent station was at the Public Affairs Office and the headquarters for the Naval Air Force at Norfolk, VA. Her enlistment lasted from April 27, 1973, until April 26, 1977.
Upon discharge from the military, Lynn matriculated at Old Dominion University, graduating with a Bachelor's degree in Independent Studies, with a specialization in Japanese history and culture. She was a lover of Japanese culture and spoke Japanese.
Lynn attained her black belt in karate from her Shihan, Hiroshi Hamada, a 24th-generation Samurai, while at Old Dominion University and later taught women's self-defense classes.
On her second trip back to the West Coast as an adult, she worked for the Press-Enterprise in Riverside, CA where she was a journalist. Lynn was proud to be a shop steward for her fellow customer service union workers at the Washington Post where she worked for twenty years. Her people skills were also employed for a time at ARC in Hornell where she was a Direct Support for clients.
Lynn had an intense curiosity and nimble fingers and began restoring furniture when she was only thirteen years old. She also sewed and once made her sister, Stephanie an entirely new wardrobe. Her other talents and interests included quilting, writing, drawing and painting, playing her guitar and singing, bird watching, and camping. vHer intelligence was brilliant and she possessed a sharp wit and great sense of humor.
Relocation to her family's hometown happened following the death of her spouse and the care of her mother-in-law and father-in-law in Maryland who passed on after her wife's death.
Lynn was a friend to many and was passionately involved in numerous political causes and candidate campaigns from a young age. Causes that were important to her included marriage equality, equal rites for women, LGBTQ rights, human rights, and ecological causes. Her focus was on promoting a healthy democracy through activism. Bertha the Bullhorn and Lynn were frequent participants in marches including the Women's Rights March on Washington, DC in 2017.
Part of Lynn's inquisitiveness was her studies of various religions. She had a deep and abiding faith in God and believed that God had a deep and abiding faith in ALL of His creation.
She loved nature and was an avid birdwatcher and camper. One of her favorite places was Shenandoah National Park where her and her wife's ashes will be scattered.
There will be no memorial service but there will be a Celebration of Her Life in mid-July at a local location. Details will follow via various social media platforms.
Donations may be made in her memory to your local Indivisible Group, Planned Parenthood, or Multiple Myeloma Patient Support Group.
Funeral arrangements are in care of the Dagon Funeral Home, 38 Church St., Hornell, NY.
To leave an online condolence or share a memory, visit www.dagonfuneralhome.com.