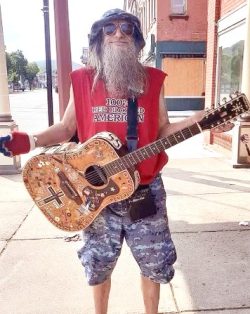 Hornell, New York
Gilbert A. "Gil" Carlton – 62 – of Hakes Ave., Hornell, died unexpectedly on Thursday (June 29, 2023) shortly after arriving at St. James Hospital where he was taken by city ambulance after being stricken at home.
Born in North Hornell on April 9, 1961, he was the son of Gilbert & Carmella (Constantino) Carlton.
Gil grew up in the Hornell – Arkport area and was a graduate of Arkport Central School (class of 1979). He later received his Associate's Degree in Mechanical Drafting from Alfred State College (SUNY Alfred).
He had been employed for about 7 years in the Engineering Department of the former M-K Industries. Moving to Virginia Beach in 1995, Gil worked as a Computer Aid of Draft & Design at NASA Air Force Base in Hampton, VA for several years. He moved back to the Hornell area about 22 years ago.
Gil had a deep love of music (especially 1980s Rock) and throughout the years was a member of several local bands. He was a gifted guitar player as well as a spiritual person and could often be heard playing inspirational music on Main Street in Hornell — usually on Sunday mornings. Gil was affectionately known as "The Troubadour of Hornell." He also enjoyed watching NFL Football and rooting for his favorite team, the LA Rams.
He was preceded in death by his parents, Gilbert & Carmella Carlton; 2 sisters, Molly Ann Carlton (died 1951) and Michelle "Mickey" George (died 2013).
Surviving are 5 daughters, Samantha "Sam" (Jake) Morgan of Arkport, Angelia Heffner of Hornell; Alyssa (Joshua Aguiar) Carlton of Oxford, AR, Ilahna (Robert Buckmaster) Carlton of Hornell and Carmella Carlton of Painted Post, NY; 15 grandchildren; 2 sisters, Cindy (Bob) Stone of Rochester and Duffle Powell of Pencacola, FL; several nieces & nephews.
At Gil's request there will be no calling hours. A "Celebration of Life" will be held on a date, time & place to be announced.
Funeral arrangements are in care of the Dagon Funeral Home, 38 Church St., Hornell, NY.
Gil's family request that in lieu of flowers, memorial contributions be made to OTC Foundation in Memory of Gilbert A. Carlton, C/O the Lion's Will, 100 Main St., Hornell, NY 14843. All money raised will be used to help finance children up to age 18 (who are in a financial bind) with music lessons or musical instruments.
To leave an online condolence or share a memory, visit www.dagonfuneralhome.com.