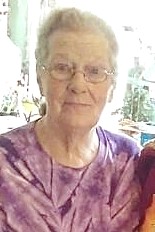 Hornell, New York
Blanche D. (Swain) Evingham Houghtaling – 76 – of 22½ Hakes Ave., Hornell, died unexpectedly Friday afternoon (June 30, 2023) at Strong Memorial Hospital in Rochester.
Born in Hornell on January 11, 1947, she was the daughter of Orin & Harriet (Chase) Swain.
Blanche grew up in the Wayland – Dansville areas and attended Wayland Central School and Dansville High School.
She had been employed for a time tying grapes at the Naples Vineyards. Moving to Hornell in 1964, she worked as a seamstress at the former Marion Rohr Corporation for several years before becoming a "Stay-At-Home" mom.
Blanche loved the time that she spent in her kitchen and will be remembered for her delicious cookies that she baked and gave away during the holiday seasons. She had a deep affection for animals and, throughout the years, enjoyed the company of many pet dogs & cats. Blanche also enjoyed crafts and loved crocheting and making other items such as candles and "wind spinners." A self-proclaimed "Shop-A-Holic," Blanche loved both attending & hosting yard sales and testing her luck by purchasing lottery tickets.
In addition to her parents, Blanche was preceded in death by her son, Mark Evingham; her great-grandson, Jasper Baldwin; her siblings, Orin Swain Jr., Margaret Cook, Ellen Cook, Eileen Cook, Donald Cook, Brad Cook & Glen Cook,
Surviving are her husband, Lee Houghtaling; 2 daughters, Pamela "Pam" (William) Denning of Dansville and Holly Smith of Missouri; 2 sons, Michael Evingham of Canisteo and Dale Evingham of Hornell; 12 grandchildren; 22 great-grandchildren; several nieces & nephews, including her "Special Niece," Glenda Wise of Tennessee.
The family of Blanche D. Swain Evingham Houghtaling will receive friends on Friday from 1:00 PM – 2:00 PM at the Dagon Funeral Home, 38 Church St., Hornell, NY. A Funeral Service will be held at the conclusion of calling hours at 2:00 PM with Deacon Robert McCormick officiating. Burial will be in Woodlawn Cemetery, Canisteo, NY.
Blanche's family request that in lieu of flowers, memorial contributions in her name be made to the Hornell Humane Society, 7649 Industrial Park Road, Hornell, NY 14843. Memorial forms will be available at the Dagon Funeral Home.
To leave an online condolence or share a memory, visit www.dagonfuneralhome.com.