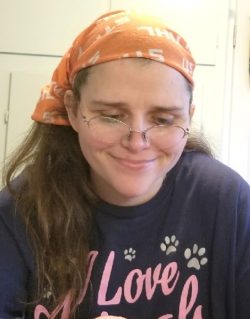 Hornell, New York
Erin Kinney – 36 – of 76 Adams Ave., Hornell, died unexpectedly on Wednesday (July 5, 2023) at her home.
Born in Chicago, IL on March 14, 1987, she was the daughter of James & Deborah (McGrane) Ludwig.
Erin resided in many locations during her childhood including South Dansville and was a graduate of Wayland-Cohocton Central School (class of 2006). She has resided in the Hornell area for the past 10 ½ years.
She was employed as a Home Health Care Aid for Freedom Care of Rochester, working primarily in the Hornell area. She enjoyed arts & crafts, working on puzzles and building with LEGOS. She was fortunate to have been able to visit the LEGO Store on 5th Ave. in New York City four years ago.
Having physical disabilities since birth, Erin canine companion was her Service Dog, Samuel Reid Kinney, a St. Bernard & English Mastiff mix. Together they would take daily 10 mile walks. Erin, along with her husband, Scott, traveled with the Service Dog, Samuel to Ohio for training & certification. They also traveled to Kentucky and South Carolina to visit family and to Washington, DC, New York City and Canada simply vacationing and "site-seeing." Throughout the years, they have taken Samuel on busses, trains and subways. Erin also had a deep affection for all animals and, throughout the years, rescued several cats that were in need of help.
She was married on October 13, 2012 to Scott Kinney who survives. Also surviving are 4 daughters, AlyssiaMay Kinney, MaggieMay Kinney, Willow Kinney and Sarahlynn Kinney; her parents, Jim & Debra Ludwig of Lyman, SC.
At Erin's request there will be no calling yours. A "Celebration of Life" will be held on date and time to be announced.
Funeral arrangements are in care of the Dagon Funeral Home, 38 Church St., Hornell, NY.
Erin's family request that in lieu of flowers, memorial contributions in her name be made to Hornell Humane Society, 7649 Industrial Park Road, Hornell, NY 14843.
To leave an online condolence or share a memory, visit www.dagonfuneralhome.com.