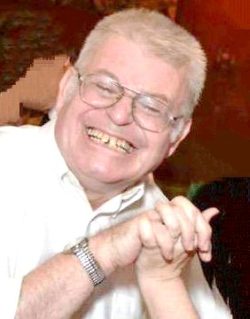 Sayre, PA / Hornell, NY
Daniel J. "Danny" Walsh – 72 – of Sayre, PA, died early Thursday morning (July 13, 2023) at the Vincent House in Wayland, NY, following a long illness.
Born in Scranton, PA on August 8, 1950, he was the son of the late Daniel and Louise (O'Brien) Walsh.
Growing up in Selinsgrove, PA, Danny resided at Selinsgrove Center where he learned daily life & social skills and vocational training. He resided in Sayre, PA for most of his adult life, proudly living independently and working various jobs in restaurants through Penn-York Opportunities, an organization that creates opportunities for community integration, learning, and employment to people with disabilities.
Although he was legally blind, Danny was a talented artist and enjoyed drawing. He also enjoyed riding his bicycle around town and collecting cans. Danny's knowledge of trains was second to none, and he had an impressive Lionel Trains collection. He also had an amazing photographic memory. Danny never forgot anything! He could recall an event from any date in history, and he certainly would never forget a word anyone in his family ever said. No one would dispute his recollection of a conversation – ever!
In addition to his parents, Danny was preceded in death by his sister, Kathleen Walsh; three brothers-in-law, Jack Emo, Dale Baker, & Roy Thomson.
His loving family includes six sisters, Mary Ann Emo of Cocoa, FL, Margaret Baker of Trenton, FL, Roseleen (Dale) Butler of Trenton, FL, Patricia Thomson of Clarence, NY, Eileen Walsh of Arkport, & Maureen Walsh of Arkport; five brothers, James (Patty) Walsh of North Pole, AK, Patrick (Lita) Walsh of Greenville, SC, Michael Walsh of Oak Ridge, TN, John (Diane) Walsh of Hornell, & Barry (Margaret) Walsh of Louisville, TN; many nieces, nephews, great nieces, & great nephews.
At Danny's request there will be no prior calling hours. A Mass of Christian Burial will be celebrated on Saturday (July 15, 2023) at 10:00 AM at St. Ann's Church, 27 Erie Ave., Hornell with Father Stan Kacprzak officiating. Burial will be in St. Mary's Cemetery, Fremont.
The Funeral Mass for Daniel J. "Danny" Walsh will be live-streamed and can be viewed Saturday morning at 10:00 AM on the Dagon Funeral Home Facebook page by visiting www.facebook.com/dagonfuneralhome or the Peish TV YouTube Channel. The video will remain available for viewing for 30 days.
Funeral arrangements are in care of Dagon Funeral Home, 38 Church St., Hornell, NY.
In lieu of flowers, memorial contributions in Danny's name may be made to Our Lady of the Valley Parish, 27 Erie Ave., Hornell, NY 14843.
To leave an online condolence or share a memory, please visit www.dagonfuneralhome.com or www.facebook.com/dagonfuneralhome.