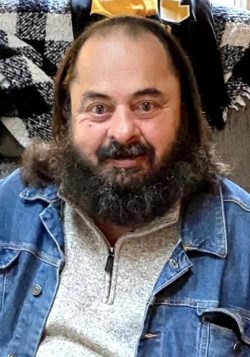 Hornell, New York
Mark A. Panaccione – 66 – of Lincoln Gardens, Hornell, passed away on Sunday, July 30, 2023, at Strong Memorial Hospital in the presence of his family.
He was born on June 8, 1957, in Newark, NJ, to Gerald Panaccione & Sally (Barone) Panaccione.
During his youth, Mark developed a passion for attending antique car shows. He lovingly restored a 1954 Ford, which he proudly showcased at an English Town Car exhibition that spanned from Hanover, NJ to Wildwood, NJ. In addition to flipping antique cars and trucks, Mark enjoyed the exhilarating pastime of motorcycle riding. He also found great pleasure in refurbishing furniture and skillfully crafting wooden wall plaques.
Mark embraced creative pursuits and was a self-taught artist. His talent spanned across various mediums, with a collection of oil landscape paintings and cartoon illustrations comprising his body of work. These artistic endeavors earned recognition at local libraries, where Mark's art was exhibited. Notably, he was renowned for his exceptional assortment of Rat Fink models, which captivated the admiration of friends and family.
In his later years, Mark found joy in engaging with his grandchildren through craft projects, particularly during festive occasions. Devoted to his family, he relished the opportunity to cook for his loved ones, with lasagna serving as a favored dish. Mark's cherished tradition included spending each holiday with his relatives, making lasting memories with his children and grandchildren.
Mark is survived by his daughter, Tina White, her fiancé Kenneth Medcalf and her three children, Aiden Panaccione, Lilly and Kadence White. He is also survived by his daughter, Melissa Makarick, and her two children, Gracie and Oliver Makarick. Additionally, his sister, Donna Otto and her husband, Andrew, along with their three children, Elizabeth and her husband Jason Bedor, Andrea and her husband Nathan Colpitts, and James Otto and girlfriend, Taylor Curtin, also survive him. Lastly, his brother, Jerry Panaccione, and his wife Marianne, along with their two children, Michael Panaccione and Danielle and her husband Mark Pabers, also survive him.
The family of Mark A. Panaccione will receive friends on Saturday, September 2, 2023 from 12:00 (Noon) until 1:00 PM at the Dagon Funeral Home, 38 Church St., Hornell, NY. A Memorial Service will be held at the conclusion of calling hours at 1:00 PM with remembrances by family & friends.
Mark's family request that in lieu of flowers, memorial contributions in his name be made to the Hornell Humane Society, 7649 Industrial Park Road, Hornell, NY 14843. Memorial forms will be available at the Dagon Funeral Home.
To leave an online condolence or share a memory, visit www.dagonfuneralhome.com.