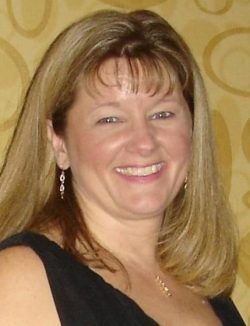 Arkport, New York
Melinda "Mindy" S. (Nickel) Gates of 9123 Strobel Road, Arkport, NY passed away Friday morning, August 11, 2023, at Noyes Memorial Hospital in Dansville following a far-too-short battle with aggressive breast cancer.
Born in Niagara Falls, NY on December 20, 1961, she was the cherished daughter of her late parents, Robert "Bob" & Bertha "Bert" Nickel.
Mindy spent most of her childhood in Fairmont, West Virginia and moved to the Arkport area when she was a senior in high school. She was a graduate of Arkport Central School (class of 1980) and later graduated as a Licensed Practical Nurse from Monroe Community College.
For several years, Mindy served as a pediatric nurse at Genesee Hospital in Rochester, NY and as an LPN at various outpatient dialysis centers in Connecticut and California. Since returning to Arkport and marrying her long-time companion David Gates (August 17, 2012), Mindy spent the last 15 years working with children as both a nurse and a teaching assistant at various school districts in the area. She held a special place in her heart for a little boy named Cameron, with whom she worked as a one-on-one nurse.
Mindy was loved and highly regarded by her church family. She was a vital and integral part of the Arkport Presbyterian Church and enthusiastically participated in church events, sang in the choir, served as their financial secretary and sat on the leadership board. She was chairperson of the Christian Education Committee and brought vibrant energy to various youth ministry activities; she loved the Lord and helping children make a connection to Him. Having a deep love of animals, Mindy (and her husband David) owned and operated a family hobby farm: caring for goats, horses, mules, donkeys, cows, chickens and pigs. Throughout the years, she fostered and rescued countless vulnerable and sick animals and provided the physical and emotional care to give them better lives; Mindy was a constant advocate for the welfare of all animals. She also enjoyed crafting and was known for the beautiful barn quilts she made and sold at Lulu's Quilts and Treasures in Arkport.
She was preceded in death by her parents, Bob and Bert Nickel.
Mindy was devoted to her adoring husband David, who survives. She also cherished their family and their children: Jessica (Kevin) Johnson of Fairport, NY; Steven Dennis of Arkport; Donovan Gates of Arkport; Karen (Mike) Smith of Hornell; Karla (Johnny) Yarka of Hornell; Kristie (Tommy) Radford of Horseheads; two sisters, Denise (Jim) Kemp of Covington, GA; Michele (Terry Muchler) Nickel of Hornell; one brother Robert (Mary) Nickel of Fort Walton Beach, FL; seven grandchildren: Hannah Perno, Jake Perno, Wesley Radford, Ethan Radford, Vivian Smith, Willa Smith and Kayleigh Johnson; several nieces and nephews, and many treasured friends. She also leaves behind a house full of her favorite-furry-rescues: Chewy (Petunia), Libby (Maude), Gisele (Wheezy), Magoo (the upstairs cat), Sunny (the black and white one) and Twister (Pegleg).
At the family's request, there will be no calling hours. A Celebration of Life will be held Saturday, August 26 at the Arkport Presbyterian Church. The service will start at 11AM with a reception and celebration to follow. As she would have embraced and wanted – all who loved and cared for Mindy are welcome to attend.
Funeral arrangements are in care of the Dagon Funeral Home, 38 Church St., Hornell, NY.
Mindy's family requests that in lieu of flowers, memorial contributions in her name be made to the Hornell Humane Society, 7649 Industrial Park Road, Hornell, NY or to your preferred Breast Cancer Research Foundation.
To leave an online condolence or share a memory, visit www.dagonfuneralhome.com.