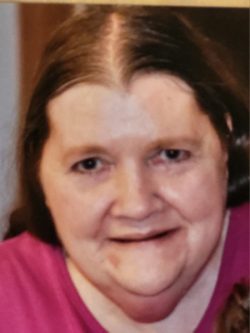 Canisteo, NY / Hornell, NY
Joann M. Rahr – 68 – a resident at Elderwood at Hornell Nursing Facility, formerly of Canisteo, NY, died early Wednesday morning (September 27, 2023) at St. James Hospital.
Born in Hornell on July 29, 1955, she was the daughter of Robert & Anna (Clancy) Burritt.
Joann grew up in Hornell and was a graduate of Hornell High School (class of 1973).
She was married in 1979 to Daniel D Rahr (divorced). She later earned her Associate's Degree in Business from Alfred State College (SUNY Alfred).
A resident of Canisteo, NY for most of her adult life, Joann was a proud "Stay-At-Home-Mom" who took pride in raising her four children.
She was a former communicant of St. Ann's Church and a longtime member of the Hornell VFW. Joann had a deep love of music, especially country music, and loved listening to her favorite country artist, Brenda Lee. There was always music playing at her home.
Joann was a Green Bay Packers fan (NFL) and a New York Yankee fan (MLB). Nearly every morning she could be found "holding court" at her home as many friends would stop by to have coffee & simply "chit-chat."
In addition to her parents, she was preceded in death by her brother, Robert "Bobby" Burritt, Jr.
Surviving are 3 sons, Ronald (Chip) Schaumberg II of Zephyrhills, FL, Dan (Erica) Rahr of Myrtle Beach, SC and Cory Rahr of Canisteo; 1 daughter, Andrea (Patrick White) Sharp of Canisteo; 1 "Bonus Daughter", Kyliegh (Justin) Recktenwald of Arkport; her grandchildren, Jersey Schaumberg, Roselyn Rahr, Tabitha Rahr, Imogene Rahr, Raidyn Rahr, Kolby Sharp, Connor Sharp, Kaiden Sharp, Robert White, Libby White, and Hudson Recktenwald. Also surviving are 2 brothers, Stephen (Barb) Burritt, Martin (Roy) Burritt; along with many loving aunts and uncles, and several nieces and nephews.
At Joann's request there will be no calling hours. Private services will be held at the convenience of the family. A "Celebration of Life" will be held on at date & time to be announced.
Funeral arrangements are in care of the Dagon Funeral Home, 38 Church St., Hornell, NY.
Joann's family request that in lieu of flowers, memorial contributions in her name be made to a local charity of the donor's choice.
To leave an online condolence or share a memory, visit www.dagonfuneralhome.com.