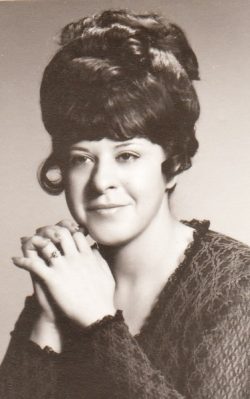 Swain, NY / Hornell, NY
Marjorie A. "Margie" (Fucci) Blowers, 77, of Swain, NY passed away at home on September 23, 2023, following a long illness. Margie was comfortable at home and her wish was to spend her final time in the home she shared with her family for almost 50 years.
Born in Hornell on October 7, 1945, she was the daughter of Anthony & Mary (Caruso) Fucci. As a child, she attended St. Ann's School and was a 1963 graduate of Hornell High School.
On October 5, 1974, she married the late James R. Blowers, and they enjoyed nearly 47 years of marriage together until his death on August 16, 2021. Margie and Jim are united together again!
For many years, Margie worked as a hairdresser before taking time away to stay home with her children. She returned to work as a teacher's aide for Steuben- Allegany BOCES for 25 years, working with students with disabilities; a job she enjoyed very much.
Margie will forever be remembered as an amazing daughter, wife, mom, and Nana. She gave everything she had to her family. She was an amazing cook and many family meals were enjoyed around her table. Margie's sense of humor and her ability to make people laugh was a gift. She will be deeply missed by all who knew and loved her.
In addition to her husband, Jim, Margie was preceded in death by her parents, Mary and Anthony Fucci; her siblings, Clara Fucci, Michael Fucci, and Maria Ormsby.
Margie is survived by her daughter, Mary (Chris) Clark (and their son, Bryce of Corning, NY); her son, Jim Blowers (and his daughter, Jaiden, of Nunda, NY); her brother, Leonard (Diane) Fucci of Hornell; her sister, Amelia Dempsey of Hamburg, NY; and sisters-in-law, Linda Fucci, Bonnie Miller, Mary Lou Kernahan, and Patricia Selbig; neices and nephews; and special friends, Ann Hoeffner and Martha Bartle.
The family of Marjorie A. "Margie" Blowers will receive friends on Sunday from 5:00 PM until 7:00 PM at the Dagon Funeral Home, 38 Church St., Hornell, NY. A Mass of Christian Burial will be celebrated on Monday at 10:00 AM at St. Ann's Church with burial in St. Mary's Cemetery.
Margie's family request that in lieu of flowers, memorial contributions in her name be made to Tender Loving Home Care Services, 43 Maple St., Canisteo, NY 14823. Memorial forms will be available at the Dagon Funeral Home.
To leave an online condolence or share a memory, visit www.dagonfuneralhome.com