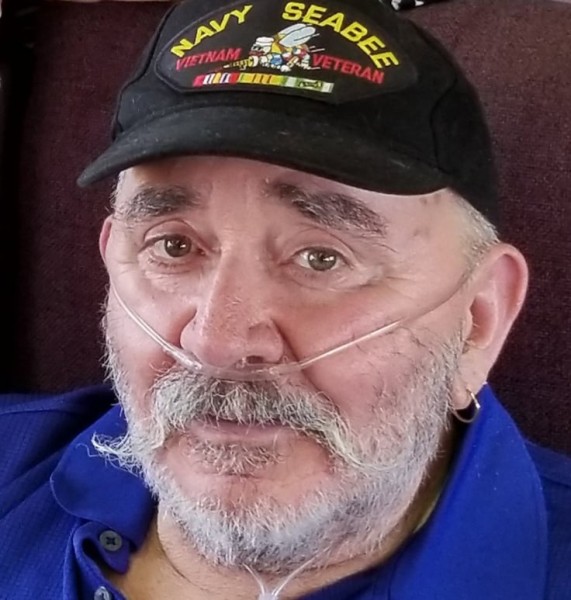 Houghton / Hornell
James D. "Dan" Ahearn – (70) –formerly of Houghton, NY, and Hornell, died Tuesday, March 24, 2020 at his home in Mesa, AZ where he had resided since 2015.
Born in Hornell on June 18, 1949, he was the son of James & Audrey (Waight) Ahearn.
Dan grew up in Hornell and was a graduate of Hornell High School (class of 1968).  He later attended Alfred State College.
He was retired from US Navy, serving his country from 1968-1972 as a Navy SEABEE and also from 1976-1991 as a Chief Hull Maintenance Technician.  He also saw two "Tours of Duty" in Viet Nam.
While still serving in the US Navy, Dan resided several years in Connecticut and following his retirement he lived there for another 13 years working in the plumbing, heating and air-conditioning field.  Dan returned to Hornell NY in 2004 and lived in Houghton NY since 2012 and Mesa Arizona since 2015.
He was a member and past commander of the Hornell VFW and a member of the AMVETS.  He was also a former member of the Hornell Elks Lodge, Hornell Association, Hornell Moose, Hornell American Legion and the Knights of Columbus.
Dan was a former member of St. Ignatius Loyola Church. He enjoyed motorcycle riding, photography and pistol shooting.
He was married on February 29, 2012 to the former Violet Thompson who survives.  Also surviving are his son, Brandon (Lydia) Ahearn of Waterford, CT; 4 daughters, Samantha Ahearn of Clearfield, PA, Rebecca (Jerry) Fethers of Ruskin, FL, Shannon Ahearn of Waterford, CT and Erin (Mike) MacDonald of Waterford, CT; his nephew whom he raised, Thomas Ahearn of Waterford, CT; 2 sisters, Kathleen Ahearn of Bakersfield, CA and Diane Ahearn of Redlands, CA; 2 step-children, Catherine Doughty of CT and Jack Caine of AZ; 16 grandchildren; 2 great-grandchildren and nieces & nephews.
The family will receive friends on Friday, August 6, 2021 from 10:00 – 11:00 AM at the Dagon Funeral Home, 38 Church St., Hornell, NY.  A Memorial Service with full military honors will be held at the conclusion of calling hours at 11AM with Deacon Robert McCormick officiating. Final interment will be in the Bath National Cemetery, Bath, NY.
Dan's mother, Audrey, who died May 29, 2020 will also be remembered and honored at the Memorial Service.
Dan's family requests that in lieu of flowers, memorial contributions in his name be made to: St Jude Children's Hospital as he was a long time contributor.  Memorial forms will be available at the Dagon Funeral Home.
In recognition of Dan's service to his country, the American Flag at the Dagon Funeral Home will be flown at half-staff.