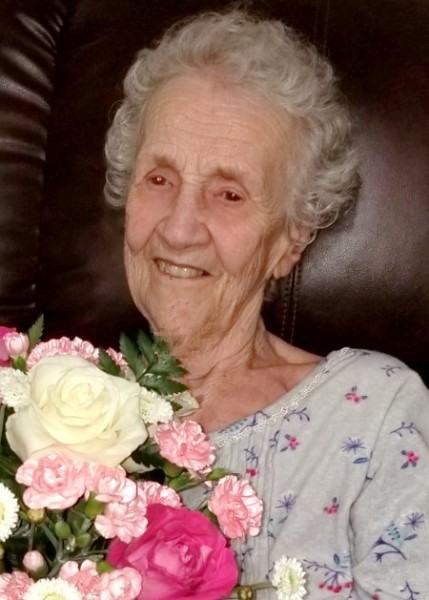 Audrey M. Ahearn – 93 – of Redlands, CA, formerly of Hornell died May 29, 2020 at her home, following a long illness.
Born in Hornell on February 20, 1927, she was the daughter of John & Bernice (Leahy) Waight.
Audrey grew up in Hornell and was a graduate of Hornell high School (class of 1945).  While living in Hornell, she was a communicant of St. Ann's Church and also served as a leader for the Camp Fire Girls.  She was a skilled seamstress and fashioned a variety of outfits for her family.
She was married on January 23, 1947 to James "Jim" Ahearn.  They resided in Hornell until 1969 and then moved to California.  They later moved to Japan where the lived for three years.
On her return to California, Audrey furthered her education and graduated from Los Angeles City College in Los Angeles, CA.  She was employed as a Central Supply Supervisor at Ingleside Hospital in Rosemead, CA for many years.  After her retirement, she served as a school crossing guard and was beloved as "grandma" to the children in her neighborhood.  Audrey was a prolific reader and a huge fan of Country music.  She loved to travel, and Hawaii & Mainland China were two of her favorite destinations.
Audrey was preceded in death by her former husband, James "Jim" Ahearn; her son, James "Dan" Ahearn; and her brother, Johnny Waight.
Surviving are 2 daughters, Kathleen Ahearn of Bakersfield, CA and Diane Ahearn of Redlands, CA; her daughter-in-law, Violet Ahearn of Mesa, AZ; 8 grandchildren; 17 great-grandchildren; 2 great-great-grandchildren; nieces & nephews.
The family of Audrey M Ahearn will receive friends on Friday, August 6, 2021from 10:00 AM  –  11:00 AM at the Dagon Funeral Home, 38 Church St., Hornell, NY.  A Memorial Service will be held at the conclusion of calling hours at 11:00 AM with Deacon Robert McCormick officiating.
Audrey's son, James "Dan" Ahearn who died March 24, 2020 will also be remembered and honored at the Memorial Service.
Audrey's family request that in lieu of flowers, memorial contributions in her name be made to the Alzheimer's Association, 435 East Henrietta Road, Rochester, NY 14620.  Memorial forms will be available at the Dagon Funeral Home.
To leave an online condolence or share a memory, visit www.dagonfuneralhome.com