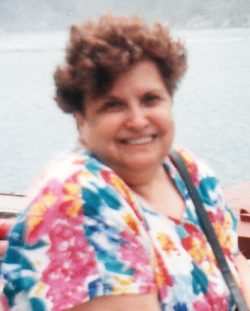 Mary E. Micglire – 81 – formerly of Hornell & Canisteo, passed early Saturday morning (April 30, 2022) at the Clifton Springs Nursing Facility in Clifton Springs, NY where she resided for the past four years.
Born in Greenwood, NY on June 27, 1940, she was the daughter of George & Ina (McCormick) Burdick.
Mary grew up in Greenwood and was a graduate of Greenwood Central School (class of 1958).  Following high school graduation, she began babysitting for the children of Carmen "Carl" Micglire.  Eventually Mary & Carl fell in love and were married on December 10, 1969.
Residing in the Hornell – Canisteo area for most of her adult life, Mary had been employed at the former Marian Rohr Corporation, the Squirrel's Nest Motel in Alfred, Loohns Cleaners in Hornell and the Coachlight Motel in Hornell.
Mary was a spiritual woman who was raised Catholic and was devoted to saying the Rosary.  She had been a member of the Red Hat Society and was an artist who enjoyed sketching, painting, crafts & crocheting.  She also loved playing bingo at the various nursing homes where she resided over the past several years.  She was very thankful for her granddaughter, Ashley, who would always do so much for her.
She was preceded in death by her husband, Carmen "Carl" Micglire; her son, Scott Micglire; 2 grandsons, Mark McGregor & Matt Holley; 4 sisters, Gertrude Falkner, Frances Griffin, Ellen Faubert and Ruth Burdick; 1 brother, Merle Burdick.
Surviving are her children, Laura Micglire of Hornell, Jeffrey (Linda) Micglire of Wayland, Kimberly Mosher of Hornell and Anna (Jason) Holley of Tennessee; her son-in-law, Oris Mosher of Hornell; her daughter-in-law, Brandy Micglire of Missouri; several step-children; 16 grandchildren, Carla (Brian) Dodge, Elizabeth Edwards, Barbara Edwards, Allison Micglire, Skyler Chace, Ashley Micglire, Sara Shroyer, Devon (Laken) Mullen, Travis Holley, Michelle Holley, Mike Holley,  Brelynn Micglire, Maciann Micglire, Reilee Marsh, Izadora Micglire & Jennifer Sauerbier; 16 great-grandchildren; nieces & nephews.
The family of Mary E. Micglire will receive friends on Saturday (May 14, 2022) from 4:00 PM until 6:00 PM at the Dagon Funeral Home, 38 Church St., Hornell, NY.  A Memorial Service will be held at the conclusion of calling hours at 6:00 PM with Deacon Robert McCormick officiating.  Final interment will be in Greenwood Cemetery, Greenwood, NY.
Mary's family request that in lieu of flowers, memorial contributions in her name be made to a charity of the donor's choice.
To leave an online condolence or share a memory, visit www.dagonfuneralhome.com