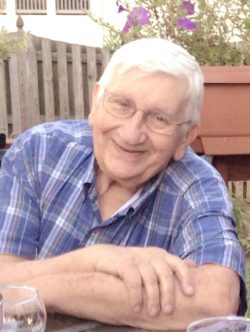 Harold "Hal" Severin – 93 – of Falls Church, VA, formerly of Hornell, died unexpectedly on Friday (May 13, 2022) at his home.
Born in Paterson, NJ on April 6, 1929, he was the son of Willy & Charlotte (Trinkaus) Severin.
Hal grew up in the Bronx, NY where he resided until the age of 10 when his family moved to Leipzig, Germany.  As a US citizen living in Germany during WWII, he graduated from high school and returned to the United States when he was 17 years old.  He was a graduate of Alfred University where he received his bachelor's degree in Ceramic Engineering.  Hal worked as a Ceramic Engineer for American Standard, Brockway Glass (Owens Illinois) and Manville until his retirement in 1992.
From 1954-1956, Hal served in the US Army.  Because he spoke fluent German, he was stationed in Verdun, France and served as a radio operator.
Following his honorable discharge from the Army, Hal returned to the Hornell area where he married Patricia "Pat" Egmond on September 29, 1956, whom he had met in Hornell prior to his service in the Army.  Throughout the years, Hal & Pat and their family resided in many locations.  From 1956 – 1967 they lived in Pinole, CA and from 1967 – 1979 they resided in Brockway, PA.  In 1979 they moved to Littleton, CO and later moved to Perrysburg, OH where they lived until moving to the Hornell – Canisteo area in 1992.  They moved to Tappahannock, VA where they resided until moving to Falls Church, VA in 2014.
Hal was a member of Our Lady of the Valley Parish and had been a communicant of both St. Ignatius Loyola Church and St. Ann's Church and sang in both choirs. In addition to singing in the choir he was an active lector and cantor, including St. Tobias in Brockway, PA, St. Timothy's in Tappahannock, VA, and Queen of Apostles in Alexandria, VA. He was a member of the Teutonia Männerchor of Toledo, Ohio, and performed in many local community musicals and operas over the years.   For many years, he volunteered his time serving as a driver for the Faith in Action of Steuben County serving the Amish Community, taking them to doctor's appointments.  He was a lifelong Pittsburgh Steelers fan, a more recent Washington Nationals fan, and loved playing fantasy baseball with his daughters.  Hal enjoyed genealogy and doing family research and indexing files on family history, most especially translating church records from German to English.
He was preceded in death by his wife, Patricia "Pat" Severin who died January 28, 2018; his brother, Norman Severin, and his parents.
Surviving are 1 son, Michael Severin of Lakewood, CO; 4 daughters Barbara Severin of Herndon, VA, Monica (Tony) Palombella of Midlothian, VA, Mary (Kevin) O'Brien of Arlington, VA and Theresa Severin of Alexandria,VA;  4 grandchildren Shyanne Severin, Lily Severin, Laura Palombella and Mark Palombella; 1 great-grandson Logan Friend; half-brother Michael Just of Germany; many nieces & nephews.
At Hal's request there will be no calling hours.  A Memorial Mass will be held on Friday (June 3, 2022) at 10:00 AM at St. Ann's Church in Hornell.  Final interment will be in St. Mary's Cemetery.
Funeral arrangements are in care of the Dagon Funeral Home, 38 Church St., Hornell, NY.
Hal's family request that in lieu of flowers, memorial contributions in his name be made to World Central Kitchen https://wck.org/ and Capital Caring https://www.capitalcaring.org/
To leave an online condolence or share a memory, visit www.dagonfuneralhome.com