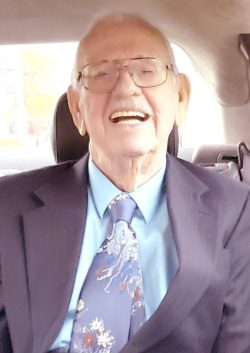 Bath, New York
Robert L. "Bob" Wildman – 90 – of 10 Birch St., Bath, NY, passed away peacefully Saturday morning (May 14, 2022) at his home, following a long illness.
Born in Flint, MI on June 2, 1931, he was the son of Leland & Clara (Woodcock) Wildman.
Bob grew up in Flint, MI where he graduated from high school (class of 1949). He was a veteran of the National Guard and the US Air Force and served while stationed in Korea during the Korean Conflict. Bob was a member of the VFW, American Legion, and the Elks Lodge.
Following his honorable discharge from the US Air Force, Bob moved to Phoenix. He later decided to continue his education and eventually received his Bachelor's Degree in Accounting from the University of Arizona in Flagstaff, AZ.
He resided in Flagstaff, AZ and Winslow, AZ for several years while getting his degree. After college Bob returned to Phoenix where he was employed in the accounting departments of both Coca-Cola Corporation and Motorola Corporation. He later owned & operated Harry's Pool Service in Phoenix, a business that he purchased from his father-in-law and retired in 2005.
In his younger years, Bob enjoyed his time as a roller rink referee, football coach, and referee. A true outdoorsman, he enjoyed camping, boating, & fishing with his family.
Bob has been a resident of the Bath, NY area for the past 6 years. While in Bath, NY he was a member of the Gateway Community Church of Avoca.
Bob was preceded in death by his wife of 35 years, Kathleen (Kepner) Wildman who died in 2002 and his third wife, Dorothy Hall who died in 2016; his son, Doug Wildman; his step-son, Rob Forward; 2 brothers and 3 sisters.
Surviving are his 2 daughters, Kimberly (Laurie Howe) Wildman of Bath and Diane; his step-daughter, Tracy Sinnard of Douglas, WY; along with several grandchildren, nieces & nephews.
A Memorial Service will be held on June 5th at 12:30 following Sunday services with a light lunch at Gateway Community Church at 11 Griswald St., Avoca, NY with Rev. Claudia Browning officiating.
Funeral arrangements are in care of the Dagon Funeral Home, 38 Church St., Hornell, NY.
Bob's family request that in lieu of flowers, memorial contributions in his name be made to Disabled American Veterans, any "No Kill" Animal Shelter, or Gateway Community Church.
His final resting place along with his wife Kathleen (Kathy) Wildman will be at Flint Memorial Park in Morris, Michigan amongst his family at a later date.
To leave an online condolence or share a memory, visit www.dagonfuneralhome.com