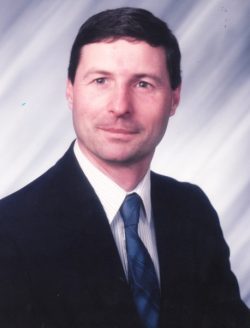 Hornell, NY  /  Almond, NY
Ronald K. "Ron" George – 70 – of 500 Residence Way, Hornell, formerly of Almond, NY, died Monday evening (November 28, 2022) at Elderwood at Hornell Nursing Facility, following a long illness.
Born in Hornell on October 30, 1952, he was the son of Kenneth & Helen (McGuire) George.
Ron grew up in West Almond and was a graduate of Angelica High School (class of 1970).  He later earned his Associate's Degree in Electrical Technology from Alfred State College (SUNY Alfred — class of 1972).
Following his graduation from Alfred State College, Ron enlisted in the US Army National Guard.  His military career took him from Private to 1st Sergeant, retiring after 21 years of service to his country.  The same year that he enlisted in the National Guard, he also began working for New York State Electric & Gas (NYSEG) working in many capacities, including building maintenance, 1st Class Lineman, 1st Class UC&M, Line Supervisor, Construction Manager, Manager Training and Manager Special Projects, retiring after 35 years of service.
He was a communicant of St. Brendan's Church of Almond and was also a member of the Hornell American Legion and the Hornell AMVETS.  He was a lifetime member of the Almond Volunteer Fire Department, serving as Fire Chief for several years.  He also served on the Almond Town Board.
Ron was an outdoorsman who enjoyed hunting (deer & small game) and fishing.  He also enjoyed boating and, along with his wife, Lucille, loved spending weekends actually living on their boat on Seneca Lake.
He was preceded in death by his son, Bradley George who died in January, 1980 and his father, Kenneth George who died in January, 1977.
Ron was married on April 6, 1974 to the former Lucille Kellogg who survives.  Also surviving are his son, Kurtis (Emily) George of Canisteo; his grandsons, Ryan, Kaleb and Ethan; his mother, Helen (Robert) Shoemaker of Nunda; 2 brothers, Dennis (Ellen) George of Almond and Michael (Lorraine Pangrazio) George of Oakfield, NY; 1 sister, Marianne (Michael) Bracken of Almond; many cousins, nieces & nephews.
The family of Ronald K. "Ron" George will receive friends on Thursday from 1:00 PM until 3:00 PM at the Dagon Funeral Home, 38 Church St., Hornell, NY.  A Memorial Service will be held at the conclusion of calling hours at 3:00 PM with Deacon Robert McCormick officiating.  Final interment will be in Woodlawn Cemetery, Almond, NY.
Ron's family request that in lieu of flowers, memorial contributions in his name be made to the Alzheimer's Association, 435 East Henrietta Road, Rochester, NY  14620 or to the Almond Fire & Rescue, 1 Marvin Lane, Almond, NY  14804.  Memorial forms will be available at the Dagon Funeral Home.
In recognition of Ron's service to his country as a member of the Army National Guard, the American Flag at the Dagon Funeral Home will be flown at half-staff.