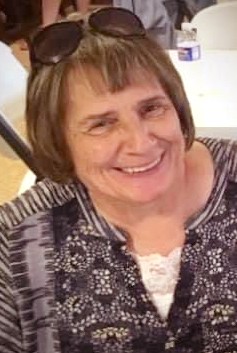 Cynthia J. "Cindy" (Schumaker) Schultheis – 74 – of 224 Greeley Ave., Hornell, died Wednesday afternoon (November 30, 2022) at Robert Packer Hospital in Sayre, PA, surrounded by her loving family.
Born in Hornell on April 4, 1948, she was the daughter of the late Matthew & Jeanne (Griffin) DeGaetano.
Cindy grew up in Hornell and was a graduate of Hornell High School (class of 1966).  She was employed as a Lab Technician at the former St. James Mercy Hospital for about 30 years and later worked as a Direct Caregiver for Steuben County ARC in Hornell.  Cindy also served as an advocate for several ARC residents in the Hornell Area. She retired about 15 years ago.
She was a member of Our Lady of the Valley Parish.  Cindy had a deep affection for all animals and throughout the years owned many dogs & cats.  She also "adopted" many unwanted animals when their owners could no longer care for them.
Cindy always enjoyed rooting for the Green Bay Packers.  She loved surrounding herself with family, friends and neighbors, helping them whenever they needed her.
The word "no" was not in her vocabulary.  One of her greatest joys was being a true friend.  One of the many things she treasured was her regular "get-togethers" with her girlfriends from the Class of '66 as well as with former colleagues from the hospital.  Sharing news of her grandchildren was always special.  She will be forever remembered as "Beepa" to them.
In addition to her parents, Cindy was preceded in death by her first husband of 31 years, Roy Schumaker and second husband Alan Schultheis.
Surviving are her son, Matthew "Matt" (Erin) Schumaker of Ontario, NY; her sister, Lynda (Dennis) O'Brien of Hornell; 3 grandchildren, Justyn, Emma and Ethan Schumaker; her niece, Bridget O'Brien of San Rafael, CA. , her very special cousin, Susie Mauro, her aunts Fran Crane, and Ann Potter.  She is also survived by several brothers-in-law and sisters-in-law, nieces, nephews and cousins.
A Memorial Service for family and friends will be held at the Dagon Funeral Home, 38 Church St., Hornell, NY on Friday, December 23, 2022 at 11:00 AM with Deacon Robert McCormick officiating.  A luncheon for friends and family will follow at The Main Place.  Final internment, at the convenience of the family, will be in St. Mary's Cemetery.
Cindy's family requests that in lieu of flowers, memorial contributions in her name be made to either the Hornell Humane Society, 7649 Industrial Park Road, Hornell, NY 14843 or to the Steuben ARC, 1 ARC Way, Bath, NY  14810.  Memorial forms will be available at the Dagon Funeral Home.
To leave an online condolence or share a memory, visit www.dagonfuneralhome.com.